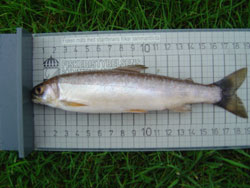 How You Can Help

Your Help is Needed!


Please help us to gather more information on Irish char by reporting your catches to the ICCG. We would be grateful if you could accompany reports with a photograph and a sample of fish-scales, together with the length and weight of the fish. The information collected will be used to assess the status of our remaining char populations.

Do your bit by;

·Not polluting these pristine waters.

·DO NOT move fish into lakes with native char.

·Alert relevant authorities (Fisheries Boards, Local authorities, Gardai) of suspicious activities that may degrade char habitat.

·Help us monitor our char stocks by forwarding records to the ICCG.

·Join us. Become a member of the ICCG and help to conserve Arctic char in Ireland.