Mucky the Muckross Lake Monster
Earc Uisce Chiarrai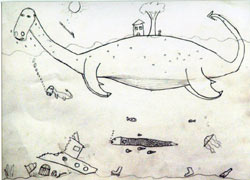 The Earc Uisce project is the brainchild of four Kerry writers, Eileen Sheehan, John W. Sexton, Margaret O'Shea and Lynda Horgan and has been taking place over the past year. The inspiration behind the project were the echo-sound readings recorded by the Irish Char Conservation Group in 2003, which showed an unidentifiable object the size of a two-story house in 25m of water along the south-eastern portion of Muckross Lake.
These recordings soon caught the public imagination and from them the idea of Mucky the Muckross Lake Monster was born. Early this year the writers went into the schools where they conducted a series of workshops which covered the Mucky phenomenon in all its various aspects, from the scientific researches of the Irish Char group to lakeland ecology and the existing Kerry folklore concerning mythical water creatures.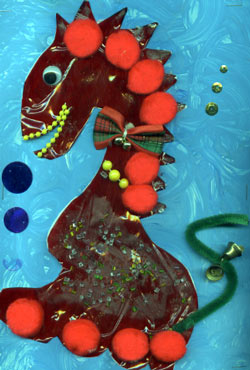 The pupils were encouraged to respond to the project through their own artwork and creative writing. The resultant work from all 8 schools forms the basis for the current exhibition. John and Eileen are currently working on a book about the project, the publication of which is planned for next year. Lynda Horgan, a graduate of the Limerick School of Art and Design, is working on the layout of the book which will include selected writings and artwork from the pupils, all of which will be on display at the library.
John is probably best known as the author of the Johnny Coffin novels and Eileen's first poetry collection, Song of the Midnight Fox, was published earlier this year. Margaret, who was involved in the project from its earliest stages, will have her debut collection of poetry published next year by Kerry publisher Doghouse.
The Killarney schools that took part in the project were St Oliver's, Holy Cross, Loughquittane, Scoil Bhríde,Tiernaboul, Lissivigeen, Presentation Monastery and Gaelscoil Faithleann.
For further information please contact Eileen Sheehan at (064) 34776 or workinprogress@iolfree.ie John W. Sexton at (064) 41610 or latearrivalonearth@eircom.net